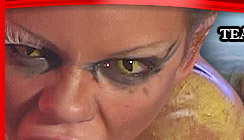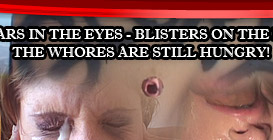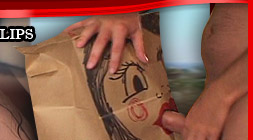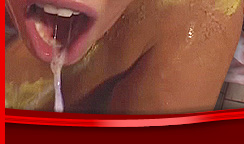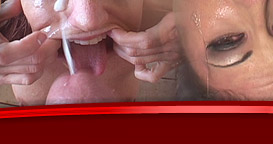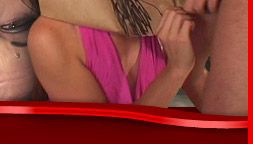 CrazyMouthMeet - without any doubt the most extreme site for blowjob freaks. Slutty whores hungry for cum in their face and their mouth. Watch them taking two cocks at once, doing extreme throatjobs or see them getting their face hole fucked by dozens of horny cocks! Hungry mouthes stretched to the limit and still wanting more, cock sucking sluts fucked so hard into their face that they are almost crying and nasty blowjob orgies with insatiable hoes that can't get enough of that tasty cum into her face fuckholes. What an excitement watching them and knowing they are only satisfied when they get a huge cumload on their beautiful faces or in their sperm hungry mouthes. weekly updates on Saturday
Gia Paloma - Insatiable Wild Cat
Gia is like a wild animal - always hungry for fresh man meat. So it's no surprise that this slut is tied up in chains and that she's crawling on the floor like a wild cat that is hunting her bag. All those horny guys want to get their cocks sucked by this tigerish and insatiable moll. Watch her sucking 27 cocks until her beautiful body is covered over and over with cum!







Tyla Wynn - 12 Cocks and 1 Hoe
A dozen of horny guys and one cum hungry hoe - what a nice orgy this is! Tyla stretches her corners of the mouth to extreme so that she is able to take even the biggest prick deep inside her face hole. This slut simply loves the taste of cum on her tongue. She takes the cocks so deep into her throat that she almost gags and sucks and mouth-fucks all of them until the fucking cream is dripping out of her big hungry mouth!







Ciera Sage - Paper Bag Face Fuck
This guy gets his cock sucked by a paper bag. No, this slut is not as ugly as you might think now. Ciera just does it for fun! This guy shoves his hard cock through the small mouth hole of the face painted on the bag so that Ciera can suck and lick it. As she removes the bag from her head she even takes his dick deep into her throat so that she almost gags. What a funny way of giving oral pleasure!







| | |
| --- | --- |
| SweetPartyChicks Niche: College Partys | |
| This site offers you thousands of wild episodes from the true life of numerous slutty college girls! Watch these hot party girls with sex starved pussies and lustful boobs in true orgies getting drunk and being fucked like crazy! They expose their sexy bodies in most erotic bumping episodes, sucking strangers` cocks and getting drill big time! Update every Saturday! | |






| | |
| --- | --- |
| FlexiDolls Niche: Real Doll Porn | |
| Just imagine the most beautiful boneless Dolls you've ever seen all twisted up like a pretzels. Hot isn't it? We think so thats why we made this site. We know there are other people out there just like us that love watching a hot chick contort her body. We've got girls in full SPANDEX body suits bent in ways you've never seen! We've got chicks that fit themselves into luggage and then get the pussy pounded right out of them! FlexiDolls is surely the best when it comes to incredible boneless flexible girls. Sit back and enjoy our exclusive high quality Movies - update every Thursday! | |





| | |
| --- | --- |
| CrazyPeeGirls Niche: WaterSport | |
| This site contains the hottest girls who love to get totally wet. Watch these sluts pissing and peeing in public places. Huge fontains of golden urine flows out of their peeholes. Some of them can even piss farther than any man could do. They just love to play with the warm yellow juice and to let their golden nectars flow in front of the camera. Movie update every Tuesday! | |




| | |
| --- | --- |
| FetishTransformation Niche: Fetish | |
| This site is definitely the craziest experience you will ever make! Where else will you got hot women be coming a sexy cat girl or a flexible snake lady crawling on the flow? Some of these amazing beauties will even ban you with their magical instruments and tricks or have you ever seen a girl split into two pieces? Sexy and fascinating. Update every Monday! | |




| | |
| --- | --- |
| ChubbyWorlds Niche: BBW Movies | |
| Here we strive to bring you the fattest,sexiest and horniest chicks around. Watch these fatties get fucked in their pussy, ass, mouth and anywhere else they can get a dick into! These plump chicks love vaginal,anal and oral sex and they wanna show you just how much they love it! Sit back and have a look around, you won't be disappointed you did! Movie update every Tuesday! | |





| | |
| --- | --- |
| CrazyMouthMeat Niche: BlowJobs | |
| Slutty whores hungry for cum in their face and their mouth. Watch them taking two cocks at once, doing extreme throatjobs or see them getting their face hole fucked by dozens of horny cocks! Hungry mouthes stretched to the limit and still wanting more, cock sucking sluts fucked so hard into their face that they are almost crying and nasty blowjob orgies with insatiable hoes that can't get enough of that tasty cum into her face fuckholes. weekly updates on Saturday | |





| | |
| --- | --- |
| Extreme Amateur Movies Niche: Pain | |
| Our site specializes in the most hardcore extreme actions you've probably ever seen and it'll keep you coming back for more every time! From pissing games, pussy clamping, tit bondage to hot candle wax,deep fisting,Extreme Amateur Movies has it all and more! Movie update every Friday ! | |


| | |
| --- | --- |
| Real Teen Dolls Niche: Young Teens | |
| Sweet high quality pics and vidoes of little teen girls. You want to see young teen girls with perky little tits trying her first anal sex, sweet looking pussies, extreme dildo games of these barely legal babes. Enjoy weekly exclusive updates ! | |


Copyright © CrazyMouthMeat.com Rights Reserved.

All models were at least 18 years old when they were photographed.